September community meeting & AGM
September 14, 2022 @ 7:00 pm

-

8:30 pm
If you live in Kings Crescent, you are a member of the resident's association and are warmly invited to all Tenants & Resident Association events
September Community Meeting & AGM
14 September 2022 7.00-8:30pm
Venue: Hackney Showroom space, 4 Murrain Road, N4 2BN
Meeting Minutes:
 
Agenda Item
Lead
Actions
1
Welcome
 
 
 
Welcome & Introductions, including apologies for absence
Emley (TRA Chair)
Agreed
2
Formal TRA AGM
 
 
 
a.      Approval of minutes from the last AGM (Sept 2021)

b.      Election of New TRA Committee

c.      Treasurer's Report

d.      Chair's report

e.      Any other business related to AGM

f.       close of AGM

Anthony  Ramsay (Hackney -LBHC)

Emley (TRA Chair)

&

Treasurer for 2021 (Alice)

Previous Minutes Approved

TRA Committee elected in accordance with LBHC Regulations.  Full list of Committee Members and positions to be released shortly. Including New elected board members

Treasurers report -committee approved

Chair report – EP gave her annual report of activities and events TRA have been involved with. 

AOB. 

3
Community Meeting
 
 
 
Approve minutes from last community meeting (June 2022)

CDF update

TRA Chair
Meeting Minutes Approved
4
Open Conversation
 
 
 
Opportunity for residents to share ideas and suggestions for activities and events on Kings Crescent:

·        What have you enjoyed about previous events/activities?

·        What else would you like to see happening?

Residents & Hackney Showroom
Residents have enjoyed the activities over all, but would like to see more inclusion. e.g events especially to target single people -Cheese and Wine evening
5
Update from Source Partnership
John/Carol
 
6
Any other business

Dates of next meetings & Events

Close

TRA Chair
Meeting closed.

Next Meeting 16.11.22 @

7pm

 

Social time and raffle after the meeting, all welcome!

 

Everyone

 
Previous information:
AGM
This meeting will start with the 'Annual General Meeting' (AGM) where the new resident's group committee will be voted in.
Everyone living on Kings Crescent Estate is automatically a member of the TRA and a committee of residents is elected at the AGM to lead the group. All KC TRA committee members contribute their time and skills on a voluntary basis.
If you are interested in joining the committee please email KingsCrescentN4@gmail.com or call 07926568497
Community Meeting
This community meeting is hosted by the Tenants & Residents Association (TRA) committee aims to celebrate the community which already exists on Kings Crescent and look for ways to develop this further.
It's a chance for residents to discuss what events and activities we want to have here, meet your neighbours etc.
Let us know if you have any ideas!
Drinks and nibbles will be provided!
(See full agenda below)
Why be involved in the Tenants & Residents Association (TRA)? 
contribute to taking action on issues which affect Kings Crescent
meet your neighbours
improve our community
decide how we spend funds available for community activities
represent residents and make your voice heard
get involved in projects (e.g gardening club, youth club)
Agenda
Agenda Item
Suggested timing
Lead
1
Welcome
5 mins
Welcome & Introductions, including apologies for absence
Emley (TRA Chair)
2
Formal TRA AGM
30 mins
a.      Approval of minutes from the last AGM (Sept 2021)

b.      Election of New TRA Committee

e.      Any other business related to AGM

f.       close of AGM

Anthony  Ramsay (Hackney)

Emley (TRA Chair)

&

Treasurer for 2021 (Alice)

3
Community Meeting
20 mins
Approve minutes from last community meeting (June 2022)

CDF update

TRA Chair
4
Open Conversation
Opportunity for residents to share ideas and suggestions for activities and events on Kings Crescent:

·        What have you enjoyed about previous events/activities?

·        What else would you like to see happening?

Residents & Hackney Showroom
5
Update from Source Partnership
5mins
John/Carol
6
Any other business

Dates of next meetings & Events

Close

TRA Chair

Social time and raffle after the meeting, all welcome!

30 mins

Everyone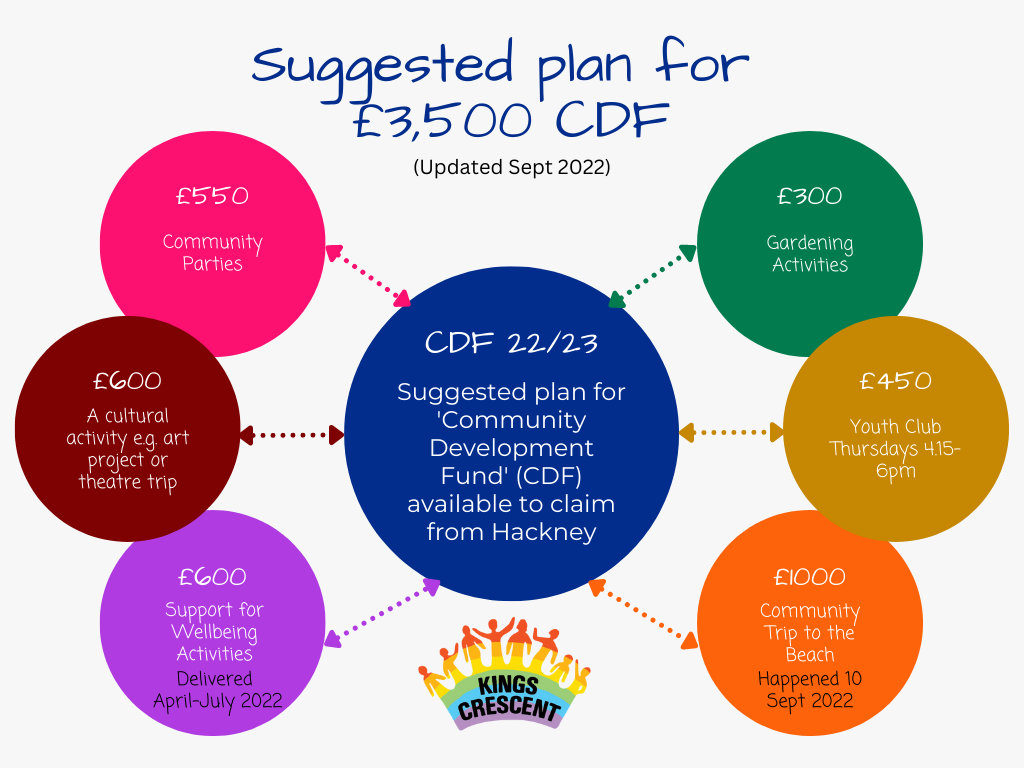 Please follow and like us: